Episodes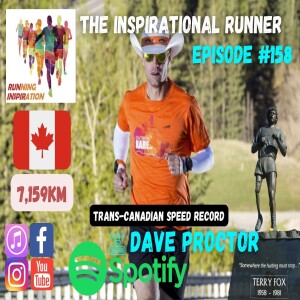 Monday Dec 19, 2022
Monday Dec 19, 2022
We have Dave Proctor with us this week, if you don't already know Dave why not check out episode #98 where we dive into the backyard ultra.
Almost three years later we are touching base again, this time to discuss the trials and tribulations of breaking the land speed record of running the 7,159km across Canada.
Starting in Newfoundland and ending in British Columbia, it took just over two months for Dave to break Al Howie's long standing speed record of 72 days 10hrs.
In just 67 days 10hrs, with an average of 105 - 106km a day, with a consistent daily finishing time of around 10 – 11hrs, this has to be one of the most outstanding ultrarunning achievements of our era.
Dave doesn't disappoint as he shares his methods of dealing with the pain, fueling strategies, the highs during the challenge and lows that follow.

Some great links to find out more...
Irunfar Interview

Dave's request form if interested in Coaching